Designed for the quality conscious security dealer seeking a cost effective, private labeled solution.
Watch what is going on in your business, office, or shop via your computer or other smart devices. Use the Eagle Eye CameraManager application to view real-time videos and listen to the camera's audio stream. You can also aim your camera at what you want to view with the simple click of a button. Use multiview mode to see up to 25 camera images at the same time. You can save your preferred multiview for direct access to your favorite cameras.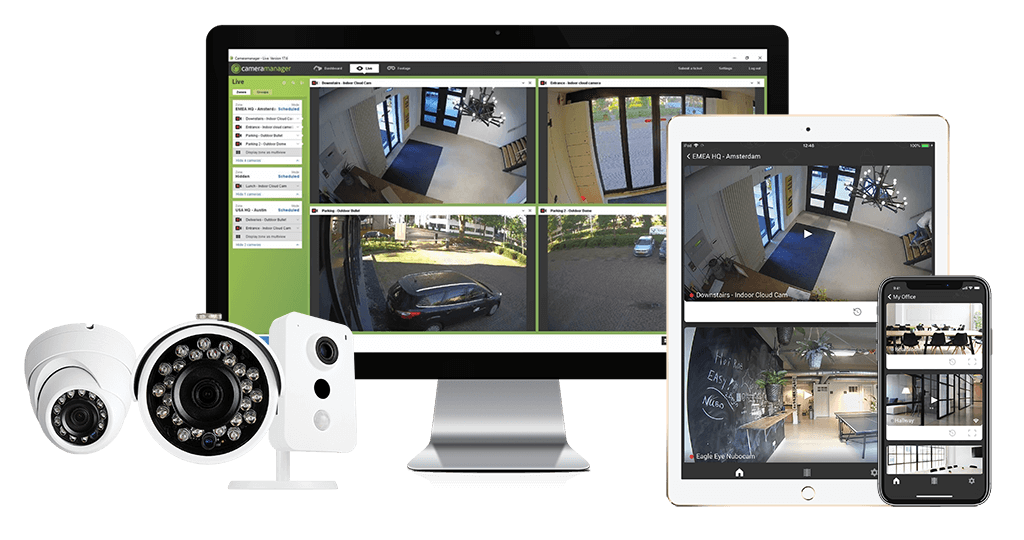 Why Eagle Eye CameraManager?
Built for the Future: Cyber secure, global, high-performance, cost-effective and constantly improving. We built our own cloud from the ground up.
A la Carte: With all the needed building blocks we've got everything you need to create your own cloud video product.
No need to Reinvent theWheel: We not only have your back, we solve the issues for you. We've been doing this for 10 years.
Launch Your Own Cloud Video Surveillance Product
Build your own cloud video surveillance product, based on the technology and platform from Eagle Eye CameraManager
Make video surveillance part of your existing product
Optimize user experience and product needs to your customers
Maximize and track your RMR with the CameraManager Portal
Expand your product portfolio with security cameras without investing heavily in video technology
We won't enter the consumer market directly, we only sell via partners
Reliability and Flexibility
Watch live streams of your cameras
Watch recorded footage
Receive push notifications when your camera detects, objects, motion, sound, or heat
Manage your cameras' angle and zoom in and out
Store snapshots on your device
Optimized for Large Screens
Our application has been tested on many popular Android models
Experience the same features as on your phone
Control Cameras On-The-Go
iOS fingerprint login for secure, easy access
Watch live streams of your cameras
Watch recorded footage
Receive push notifications when your camera detects, objects, motion, sound, or heat
Switch cameras on and off in real time
Manage Cameras on Your Device
Our application has been tested on many popular iPad models
Experience the same features as on your phone