SMART BUSINESS SECURITY
Loitering Detection Analytics
Loitering detection is a useful video surveillance analytic that generates an alert when a moving object remains in a predefined area for a specific amount of time.

Loitering is one of the video analytics that is available to add to any security camera connected to the Eagle Eye Cloud VMS (video management system).

IMPROVE SECURITY AND OPERATIONS
Video Analytics for Business Security
Improve security and business operations with the easy to use loitering analytics feature from Eagle Eye Networks. Applications range from Lobby and ATM areas where a person lingering could indicate a potential security issue to customer service and retail check out areas where a slowdown of the flow of customers could send an alert to the store manager.  

Other uses for loitering detection include: 

● Detect suspicious behavior like people sitting or standing in certain areas 
● Prevent cars from parking longer than expected in specific spots 
● Resolve long lines/queues in certain places (cashier, banks, lobby, etc)

AI + CLOUD
Cloud-Powered Analytics
Processing video analytics like loitering in the cloud with Eagle Eye Networks offers numerous benefits over locally archived surveillance analytics.
• Unlimited processing power and ability to make sense of large amounts of data
• No downtime with quick, global updates pushed through over the air updates
• Instantly transform standard analog and IP cameras into powerful AI solutions, without any additional onsite hardware

ADVANCED VIDEO ANALYTICS
Eagle Eye Networks video analytics features benefit customers in virtually every industry, including multi-family residences, smart cities, schools, hospitals, hotels, logistics, restaurants, and retail shops.
Line Crossing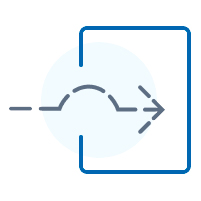 Intrusion Detection
Counting
Loitering
UNDERSTANDING VIDEO ANALYTICS
Loitering Analytics Frequently Asked Questions
Using smart data captured by your VMS enables you to gain visibility across your business, react swiftly to opportunities, and improve overall processes and performance.
With Eagle Eye Networks it is easy to set up the defined area and predetermine what users receive alerts. Click here for a step-by-step guide to set up video analytics for any cameras connected to the Eagle Eye VMS.

Yes, loitering detection is one of the analytic features available to add for all users of the Eagle Eye VMS. Loitering is one of the analytics available for any camera connected to an Eagle Eye Bridge/CMVR (except analog cameras on hybrid bridges/CMVRs). Analytics can be added on a camera by camera basis and cancelled at any time.


Data analytics processed in the camera, NVR, or cloud monitor a defined area and will trigger a loitering event if an object lingers longer than the configured dwell time. Eagle Eye Networks processes this information using AI in their cloud data centers. 

Loitering detection is a beneficial advanced data analytic in CCTV (closed-circuit television) that monitors the amount of time moving objects stay in a designated area in a security camera's field of vision. This analytic feature is combined with CCTV surveillance video storage systems.

VCA stands for video content analytics, another common term referring to video analytics or video analysis (VA).

Learn How Eagle Eye Networks Video Analytics Can Help Your Business