ADVANCED BUSINESS SECURITY
Intrusion Detection Video Analytics
Intrusion detection is an important video analytics feature for business security that is available to add to any camera connected to the Eagle Eye Cloud VMS (video management system). Eagle Eye VMS intrusion detection video analytics allow users to turn existing cameras into smart devices capable of recognizing and alerting users when someone enters a forbidden area.
REAL-TIME AWARENESS
Improved Security With Intrusion Detection Video Analytics
It's impossible to have an eye on all parts of your business at once. Intrusion detection video analytics can be used as proactive security measures for any business. Intrusion detection can be set up on any camera connected to the Eagle Eye VMS. The analytic can be used to protect several areas, both indoors and outdoors. The easy setup allows for different levels of alerts for different areas.

PREVENT LOSS
Analytics To Protect Restricted Areas
Prevent trespassing and theft with quick response using intrusion analytics. Monitor activity in parking, storage, and warehouse areas without added resources. Alerts can inform on-site managers or security personnel of a breach of a secure area. The analytic can also act as a smart fence along a commercial property's perimeter – adding another layer of security to protect all business assets and prevent liability.

Advanced Video Analytics

Eagle Eye Networks video analytics features benefit customers in virtually every industry, including multi-family residences, smart cities, schools, hospitals, hotels, logistics, restaurants, and retail shops.

Line Crossing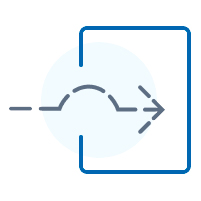 Intrusion Detection
Counting
Loitering
UNDERSTANDING INTRUSION DETECTION VIDEO ANALYTICS
Intrusion Detection Frequently Asked Questions
Using smart data captured by your VMS enables you to gain visibility across your business, react swiftly to opportunities, and improve overall processes and performance.
Yes, intrusion detection is one of the analytic features available for users to add to the Eagle Eye VMS. Analytics are available to add for any camera connected to an Eagle Eye Bridge/CMVR (except analog cameras on hybrid bridges/CMVRs).

Click here for a step-by-step guide to add and set up Eagle Eye Networks video analytics for any cameras connected to the Eagle Eye VMS.

VCA stands for video content analytics, another common term referring to video analytics or video analysis (VA).

Yes, with Eagle Eye Networks analytics, the system administrator can assign alerts to different users for different analytics including intrusion detection. Alerts can be assigned based on time of day or day of the week, depending on staffing for a business.
Learn more about Eagle Eye Video Analytics